https://severancemag.com/disenfranchised-grief-mourning-in-the-shadows/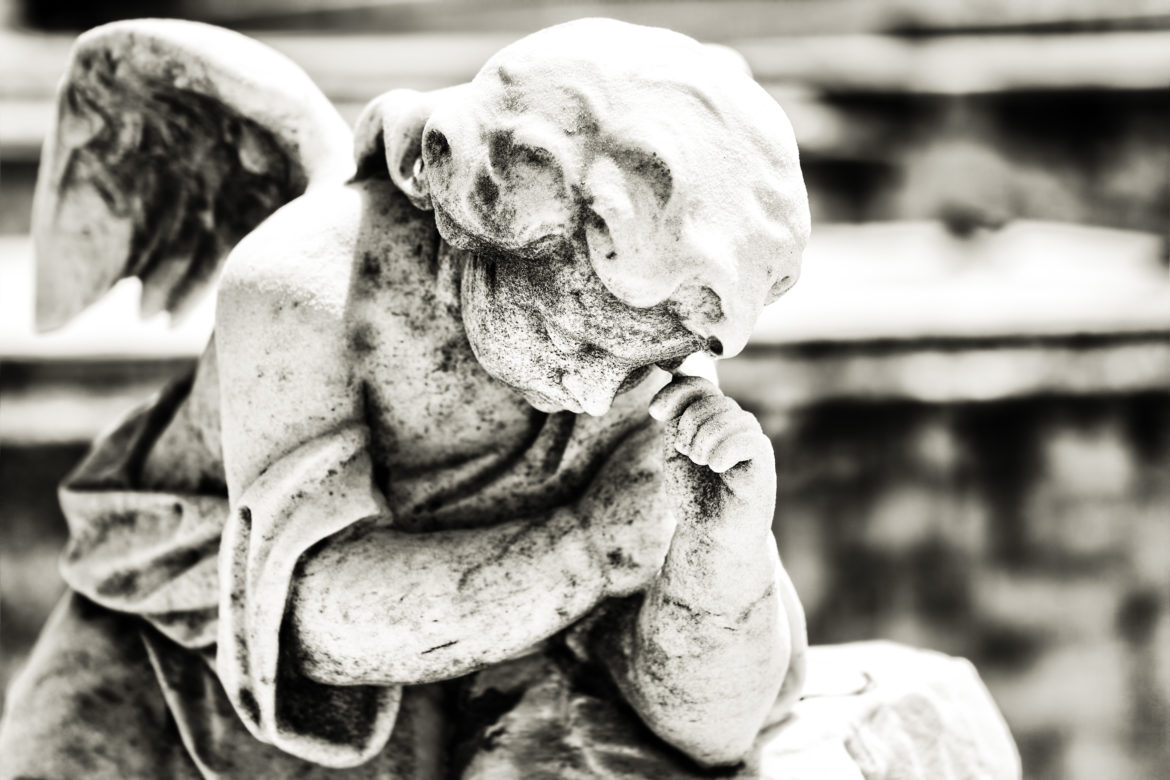 How do you mourn when no one acknowledges your grief?
In our society, we engage in age-old rituals that help share the burden of grief after a loss. We hold the hands of the bereaved through services and at gravesites. We send cards and flowers, make donations, and create meal chains. We stand in solidarity and share stories about the lost loved ones to buoy the spirits of those who mourn them. We offer practical and spiritual succor, shoulders to cry on, and a promise of being there for the bereaved when they need us.
Only sometimes we don't. For losses that fall outside of society's norms—particularly those linked with something perceived as shameful or socially embarrassing—the rituals are often absent or ignored, the grievers left alone to tend to their wounds, without empathy and support.
Kenneth Doka, PhD, formerly a professor of gerontology and now senior consultant to the Hospice Foundation of America and author of numerous books about grief, coined the term disenfranchised grief in 1987 to describe the sorrow associated with these situations that stand outside society's norms of "legitimate" loss. It refers to the emotional aftermath of losses that are not acknowledged or validated by others—a solitary state in which individuals are unable to mourn openly and may suffer in silence. They believe—or are made to feel—that they're not entitled to the ministrations typically provided when bereavement is socially sanctioned, that their losses aren't worthy of grief, or that their feelings are inappropriate.
Although there are many contexts in which disenfranchised grief may arise, among the most common, as conceptualized by Doka, are when others:
don't recognize relationships (such as those involving ex-spouses, same sex partners, or individuals who'd had an extramarital affair);
don't acknowledge the loss as being significant (a divorce; the death of an adult sibling; the loss of a child in a stillbirth or a fetus in an abortion or a miscarriage; or the loss of a pet, a job, or one's health); and
view the loss as being socially stigmatized (such as suicide, AIDs, substance abuse).
In each case, the grievers have lost a significant relationship as well as the comfort of shared or public mourning and the social embrace that facilitates grieving and helps shoulder the pain.
Grief may be disenfranchised, Doka explains, not only by society but by oneself. People who are suffering may keep their feelings inside, self-disenfranchising themselves. "Sometimes people don't feel they have a right to grieve. There may be shame or they don't understand the legitimacy of their own losses," he says.
Disenfranchised Grief and Genetic Identity Issues
We recently spoke to Doka about how disenfranchised grief may be experienced by individuals with losses related to genetic identity, family separation, and family secrets. You may be vulnerable to it, he says, if, for example, you:
find out that a family member is not genetically connected to you;
discover the identity of your biological father only to find that he's deceased;
search for and find biological family members but are rejected by them; or
you learn of the death of a biological family member who refused contact with you
In each of these cases, Doka observes, you've lost a relationship. "It may not be a relationship that you ever had, but you may have lost a fantasy of a relationship you wanted to have." And when kinship roles are not recognized, he adds, the right to grieve is also not recognized.
Disenfranchised grief also comes into play when secrets prevent open communication, observes Kathleen R. Gilbert, PhD, professor emerita in the department of applied health science, Indiana University School of Public Health-Bloomington and an Association for Death Education and Counseling Fellow in Thanatology (FT). Furthermore, adoptees, donor conceived people, and NPEs (not parent expected or nonparental event) individuals often have fantasies of reconciliation and a desire to understand their origin stories. When they search and find that their biological parents have died or they contact living relatives who are nonresponsive, there's a lot of grief involved. "A piece of what they need to know is not available," says Doka. "We like to create stories about ourselves. We want to know where we were born and who raised us, but in some situations the narrative is incomplete." When you don't know how you began, he adds, it influences your sense of self, and there's grief over the loss of identity.
For all these types of losses, it's a good bet that few will stand with you in any rituals of mourning, because in many cases there are no such rituals. And when there are, such as the funeral of a birthparent with whom you had not reunited—the man who, while married, had an affair with your mother and later ignored your attempt to connect—you may be excluded or made to feel unwelcome. And if the birthfather you never had the opportunity to meet died, it's not likely friends will acknowledge that you have cause to mourn, let alone send Hallmark cards or drop by with casseroles. It's even less likely if you've only just discovered—at the same time you learned who your birthfather was—that he died some time ago. And there are no rituals for adoptees who mourn the parents they've never known and may never know or for donor conceived individuals who can't locate their donors. In all of these situations, others may never understand your sadness and your sense of loss over someone you didn't know and something that happened long ago.
You—and those around you—may not believe you have the need or right to grieve for a relationship that never existed, but the loss of the idea, the wish, the hope for a relationship is as painful as the actual loss of a loved one.
"There are losses here," Gilbert agrees. If you were adopted, for example, she says, "You didn't have just one loss, you had layer upon layer of losses." About this grief you experience over not having known your biological family, she says, "You own it, you know it, you feel it. And then you have this social surround—all the people around you looking at you and saying, 'I know it's hard, but you should be grateful for everything you have, for having the knowledge you have." While there's no reason for adopted individuals to feel gratitude, it's not only expected but is also believed to erase any pain associated with the adoption experience. "And the thing is," says Gilbert, "you may be very grateful, but that doesn't mean you didn't have a loss."
Adoptees, furthermore, "are often told how lucky they were to get adopted, so they may feel disenfranchised from being able to mourn the loss of their birth/first parents," adds JaeRan Kim, PhD, MSW, assistant professor of social work at the University of Washington Tacoma. And the feelings of donor conceived individuals may similarly be disrespected by those who suggest they not only should not feel loss but should consider themselves fortunate merely to exist.
What does it matter if others don't understand? Social acknowledgement of losses is important, Gilbert says, because as social animals we require it. "It may be hard-wired into us to have those who support and care for us confirm the reality we're trying to construct." We don't make sense of things ourselves, she explains. "We make sense in a social context. We play off of other people. We think about things and look at other people and see how they react to us."
Stepping Out of the Shadows
People experiencing disenfranchised grief, says Doka, "often have manifestations of grief, anger, and guilt and they don't identify it as such." To cope with disenfranchised grief, it's necessary to recognize it. Acknowledge your feelings and understand that they are legitimate—you own them and are entitled to them—and identify them as grief. After this first step, there are no silver bullets, Doka observes, but there are a few self-help strategies that can be useful.
When helping clients with disenfranchised grief or other issues, Doka often asks them to examine their own coping abilities. He asks, "'How have you coped with losses in the past? What's been helpful and what has not?' My message would be to analyze your historic strength and utilize it, and that's going to be different for everyone."
Rituals of mourning play a role in helping individuals mourn and integrate the experience of loss into their lives. If you've been excluded or prohibited from participating in these rituals and have not been supported in your sorrow, it might be helpful to create what Doka calls a therapeutic ritual. Even If the loss occurred in the past but there wasn't an opportunity to mourn, it's not too late to create these healing rituals.
There are several questions you'll need to ask yourself when devising a ritual, Doka says. First, what is the message associated with the ritual you want to create? For someone who was rejected by a birth parent, "It may be a message of affirmation, just saying, 'I don't know why you didn't have contact with me but thank you for giving me a piece of life, being part of my life.' Or it may be a ritual of continuity, in which you say, 'I acknowledge that I'm part of you even if you didn't acknowledge me.' It might be a ritual of transition in which you say, "I don't need your approval or recognition any more. I am who I am and that's fine.'"
The second question is, what are the elements of your healing ritual—what form will it take? And last, ask yourself whether anyone needs to witness the ritual, and if so, who? In some cases, Doka says, you may want to involve your siblings or your significant other, and in others you might want a broader audience of friends and family.
According to Gilbert, these don't have to be "rituals with a capital R, but just acts that take you outside of the mundane, give greater meaning, and help you deal with something." It might be as simple as lighting a candle and saying the name of the person you lost," she says. It can be done privately or in a group, but it has to be something that's meaningful to you. "It acknowledges that it was a loss, it was real, there's emotion associated with it, and that that's okay." Gilbert remembers when she assigned a class of students to create loss rituals. One student, she recalls, wrote a letter to her father, who had died when she was very young. She went with a friend to a fire pit and burned the sealed letter. As the smoke was rising into the sky she said, "Dad I'm sending this letter to you and it's coming to you on this smoke." Another student cooked and enjoyed the favorite meal of someone associated with a loss. It doesn't necessarily require an audience, says Gilbert, just a sincere intention to create a meaningful acknowledgement.
After you develop and carry out your ritual, it's helpful, Doka says, to find someone, perhaps a therapist, "who can help you unpack the experience." Together, he suggests, you can explore how the ritual worked for you and whether it met your needs or whether you need to do something else.
Experiencing grief isn't reason alone to need help. You needn't seek help because others think you need to "get over it." People can be uncomfortable with others' grief, even more so when it's disenfranchised. When they want you to get over it, what they're really saying, Gilbert observes, is "'Stop behaving in a way that makes me uncomfortable. I want you to go back to what I see as normal.' But your normal is never going to be that normal anymore because you've had this loss and its changed reality."
While others may want to rush you through your grief, you don't have to operate on any timeline but your own. "Grieving is normal and can take a long time," says Gilbert. "It can be like a river you fall into. Sometimes you're drowning and sometimes you're paddling along with it. It's not that bad, the water is warm, and you can almost touch the bottom. And that's okay."
"Grief is its own being," agrees Beth Kane, LCSW, a private practitioner in New Jersey. "It's not something you get over. It's something you learn to live with, a companion you learn to integrate into your life." It changes you, she says, "but you learn not to let it define you. That takes whatever time it takes as long as you don't get swallowed by it." Healing, she says, no matter what kind, is never a linear process. "It's a slip and slide, up and down, back and forth, two steps up and one back. We get there eventually, but processing and integration don't work like a stepladder." And with grief, "the only two fixed points are the shock and the resolution." Resolution, she adds, doesn't mean the pain goes away. It just means we have integrated it and it isn't as acute as often."
We're complex creatures, Gilbert says. "We can't be happy all the time. That's okay. That's where empathy and caring about other people comes from." According to Kim, "Individuals who experience disenfranchised grief need to be supported by those who acknowledge the great emotional and psychological costs of trying to be 'strong,' rather than allowing themselves to mourn."
Disenfranchised grief, because its burden isn't relieved through the support of others, may be internalized, resulting in what psychologists call complicated grief, or grief that has no resolution. "When we are invalidated, we often suppress our real feelings for fear of being judged, says Kane. This interference with the bereavement process, and disenfranchised grief, she says, can lead to complicated grief, which can cause symptoms such as difficulty with normal daily activities, a sense of purposelessness, longing for the object of the loss, and intense focus on the loss. It also can instigate or exacerbate mental health issues including anxiety, depression, substance abuse, and even PTSD. Worse, those who experience disenfranchised grief may be less likely than others to seek help for fear of being further stigmatized. But a therapist can help individuals get past these fears and dispel the attitudes that prevent them from working through their grief. Kane works with her clients to avoid labeling feelings and emotions as "good, bad, positive, or negative." "It's through awareness, acceptance, and support that we can work through them."
What makes grief complicated and problematic, Gilbert says, is if you can't function. "If you can't carry out your day to day functions, if you socially isolate yourself, if you're using drugs or alcohol to deaden your interaction with the world, if you feel ending your own life would be the best way to deal with what's ongoing in your life at this time, that's significant and a point at which you need to be working with someone who's professional to help you find your way back."
You may find all the care and empathy you need by participating in a support group run by a trained professional. But when grieving is more complicated, professional help may be necessary. It's important, Gilbert says, to seek help from an expert. Many people who consider themselves grief therapists may not be adequately trained, she says, and may believe helping individuals cope with grief is a matter of educating them about the five stages of grief—a largely discredited concept that's not research-based and was never intended to apply to loss of loved ones. Look for a therapist, she advises, who's certified in thanatology (the scientific study of death and practices associated with it) and credentialed by the Association for Death Education and Counseling.
"When people are grieving, they often feel that they're crazy," says Gilbert. "It's helpful to have someone who can tell you that your crazy is normal." When you think about it, she adds, "If something horrific happens and it knocks you off kilter, if you feel normal you're kind of crazy."